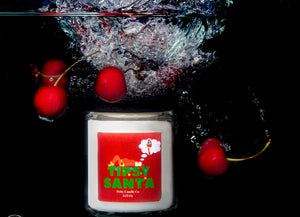 Imagine….delivering toys to a bunch of bad ass kids in ONE night!?
Santa deserves a drink if you ask us!

Fragrance notes: Black Cherry, Vanilla, Merlot, Clove,
Size:
8oz: 🔥 45-50 hour burn time
📦 Orders $45 and up ship free
Our candles are hand-poured and labeled in small batches to ensure quality.
Materials: Glass jar, metal twist top lid, USA grown soy wax, lead-free cotton wick, and premium phthalate-free fragrance oil.
U S A G E:
▫️▫️▫️▫️▫️▫️
+ During the first burn, make sure to allow the candle to melt to the edges of the candle. Failure to do so can result in tunneling, poor scent throw, and poor burn times.
+ Make sure your wick is 1/4" inches long prior to each burn.
+ Only burn for 2-3 hours at a time.
+ Do not leave the candle unattended while burning.
+ Keep away from drafts and flammable items.
+ Discontinue use when only 1/4" of wax remains